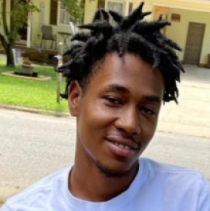 Mr. Christian Tashaun Holmes, 24, was born in Iredell County on August 19, 1997, and was the son of Treva Yvette White. He departed this life unexpectedly on Sunday, October 17, 2021.
He was a high school graduate of Maiden High School. He had a great personality, enjoyed life and shared his beautiful smile with his family.
He leaves to cherish the memory of his life include his mother, Treva E. White of the home; his daughter, Aubree Michelle Holmes of Statesville; his girlfriend, DeAna Sherrill; his sister, Syteria Holmes; his brother, Khalil Rhyhenhart; his step-sister, Ajar Harold; his grandmother, Debra White; his grandfather, Terry Gene (Treva) Holmes; step-grandmother, Valeria Harold; his uncle, Tim (Cheryl) Murdock; his great-uncles, Ralph (Odessa) Holmes, Keith D. Holmes, Roosevelt White and Charles White; his aunts, Marquita Wellman, Marquita McClain and Elizabeth Watts; his great aunts, Evelyn D. Clarke, Mary Daye, Hazel White and Annie Ruth White; his step-aunt, Tisha Harold; special cousin,s Anthony McClain and KJ Sharpe; and a host of other cousins, other relatives, neighbors and friends.
Services are scheduled for 1:30 p.m. on Saturday, October 23, 2021, at Rutledge and Bigham Mortuary.
Rutledge and Bigham Mortuary is serving the family.