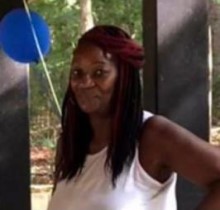 Ms. Cynthia Pearlette Bradshaw was born in Iredell County on October 23, 1958, and was the daughter of the late Mable Rankin Bradshaw and Lewis Bradshaw. She departed this life unexpectedly on Friday, July 16, 2021.
In addition to her parents, she was preceded in death by her son, Wayne Nichols Jr.; and four siblings, Dorothy Bradshaw, Jimmy Lewis Bradshaw, Wayne Mills and Sandra Bradshaw.
She was a graduate of North Iredell High School. She worked at Factory Textiles as a Machine Operator. She was a dedicated hard worker. She was a loving mother, grandmother, daughter and friend.
She leaves to cherish the memory of her life two children, Cedric Demont Bradshaw and Latosha N. Bradshaw, both of Statesville; grandchildren, Andrew Bradshaw, JuQuan McQueen, Mariah Bradshaw, DeAndre Bradshaw, Amiyah Bradshaw, Shaniyah Bradshaw, Wykaisha Nichols, Lea Bradshaw, Lexi Bradshaw and Maleia Flouton; three sisters, Cathay Johnson, Mono Barber and Bonita Bradshaw; special friends, Requel Murdock, Felicia Stevenson, Kathy Rucker, Annette Rucker, Kenyetta Brown, Wayne Nichols, Donoran and Carrie Murray; and a host of nieces, nephews, cousins, other relatives and friends.
Celebration of Life Services will be conducted Friday, July 23, 2021, at 1 p.m. at Rutledge and Bigham Mortuary. Members of the family will receive friends from 12 until 1 p.m., but will assemble at the daughter's residence at other times. Bishop Samuel Thomas will officiate with burial to follow in the Belmont Cemetery.
Rutledge and Bigham Funeral Home is serving the family.