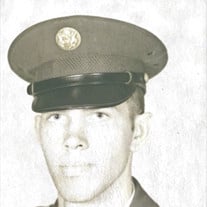 Gary Ray Adydan, 69, of Cleveland, N.C., passed away on Monday, July 19, 2021, at his residence surrounded by family.
He was born on June 16, 1952, in Lowville, N.Y., to the late Stanley and Bertha Jones Adydan.
Mr. Adydan was a U.S. Army veteran. He served in Vietnam. He was a member of Sandy Creek Wesleyan Church in Sandy Creek, N.Y.
He took pride in everything he did and was always a soldier and cowboy. Gary was family oriented, had a great sense of humor, and was quick-witted. His passions included his church, expanding his knowledge, and physical fitness. He had an "open door" policy and was always there for anyone who needed help.
In addition to his parents, he was preceded in death by a nephew, Bradley Adydan.
He is survived by his daughter, Diane Adydan (Craig Blanchard); grandson, Dylan "Doc" White (Sierra); brothers, David Adydan (Jennifer), Rodger Adydan (Tammy), Michael Adydan (Joanna), and Barry Adydan; nieces and nephews, Brian Adydan (Christine), Kelsey Randle (Joshua), J.D. Adydan, Timothy Adydan (Elaine), Mandi Leyva (Juan), Jessica Adydan, and Samantha Gardner (Caleb); and numerous great nieces and nephews.
A graveside service with full military honors conducted by the U.S. Army will be held at 9 a.m. on Friday, July 23, at Salisbury National Cemetery. A celebration of his life will be held at a later date in New York.
In lieu of flowers, memorials may be made to the Leukemia & Lymphoma Society, Donor Services, P.O. Box 98018, Washington, DC 20090-8018.
Cavin-Cook Funeral Home & Crematory, Mooresville, is serving the Adydan family. Condolences may be made to the family at www.cavin-cook.com.