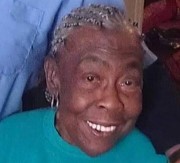 Mrs. Daisy Mae Chipley Robinson Strickland, 82, beloved daughter of the late Anderson Chipley and Beulah Chambers Chipley, was born in Iredell County, N.C., on April 4, 1938. She departed this life on Saturday, January 30, 2021, at Gordon Hospice House in Statesville, N.C., following an extended illness.
She attended the Iredell County Schools and formerly attended Knox Grove Baptist Church in Cleveland. She later united with Greater New Mt. Olive Holiness Church in Statesville.
She was twice married, first to A. R. Robinson, who preceded her in death, and second to Willie Luther Strickland, who survives. In addition to her parents, she was preceded in death by a daughter, Francine Waddell; grandchildren, Stephanie Robinson, Albert Robinson, and Yolanda Robinson; two brothers, Robert Chipley and Sonny Chipley; four sisters, Gladys Whittington, Bertha Chipley, Pauline Young and Mabel Stevenson; a brother-in-law, Joe Louis Strickland; and a sister-in-law, Allie Mae Chipley.
She leaves to cherish the memory of her life her husband, Willie Strickland of the home; seven children, Sandra (Robert) Cowan, Beulah Robinson Scott, Alice Hammons, Donise (Rudolph) Moore, Perry Robinson, and Larry (Maranda) Robinson, all of Statesville, and Sylvia Stickland (Frederick) Jones of Charlotte, N.C.; a step-daughter, DaVickie Young of Troutman, N.C.; two sisters, Naomi Crosby and Virginia Tucker, both of Statesville; a brother-in-law, Ernest Strickland of Statesville; seventeen grandchildren, Loretta Robinson and Devon Wilson, both of whom were reared in the home, Rossie, Sylvia, Tyrone, Jerry, Ernest, LaTosha (Donnell), Cody, Treyvon, Rashida, Larice, Breasha, and Rykisha (Gary); nine great grandchildren; twenty-seven great great grandchildren; and a host of nieces, nephews, cousins, The Greater New Mt. Olive Church Family, other relatives and friends.
Celebration of Life Services will be conducted Friday, February 5, 2021, at 2 p.m. at The Belmont Cemetery with Pastor Carolyn Morrison officiating.
Visit the Book of Memories for Mrs. Strickland at www.rutledgeandbigham.com.
Rutledge and Bigham Funeral Home is serving the Strickland Family.