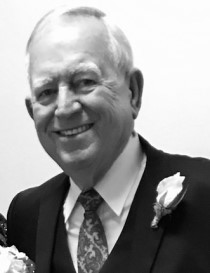 David Everett Austin, after living a beautiful life of 80 years, left for his greatest journey of all on April 13, 2021. He was born in Charlotte, N.C., on July 12, 1940, to the late Margaret Jones Austin and Fred Marcus Austin. In July of 1961 he married the love of 60 years of his life, Gloria Sweat Austin.
David has left the greatest memories of his life with his wife and two daughters, Kimberly Dawn Austin (Scott Powell) of Claremont, N.C., and Rebecca Diane Austin Geiken of Mocksville, N.C. His six grandchildren are Bradley Deal (Jamie), Matthew Deal (Ashley) of Statesville, N.C., Waldo Geiken (Christie) of Davenport, Iowa, MA2/E-5 Jasmine Geiken of Naval Base Kitsap in Bangor, Wash., Corey Deal (Erin) of Stony Point, N.C., and David Geiken of Davenport, Iowa. He was also blessed with six GREAT grandchildren, Amora, Niya and Bristel Geiken (Waldo & Christie) of Davenport, Iowa, Parker Austin Deal (Matt & Ashley), Eleanor Deal (Brad & Jamie) of Statesville, N.C., and Emma Kate Deal (Corey & Erin) of Stony Point, N.C.
To say that David Austin loved his family is an understatement. Nothing mattered more in his life than the many gatherings, whether it was reunions in Anson and Union County or Geneva, Ala., with his sister-in-love Linda S. McInnis (Melvin) and his nephews, Matthew McInnis (Tonya) , Heath McInnis (Cindy), and their children, Mattigan and Gabriel (Matt & Tonya) and Cameron and Mary Grace (Heath & Cindy), or the many blessed Christmas, Thanksgiving, Easter, July 4th, Labor Day and all of the many birthday celebrations across 60 years of life and love.
David attended Anniston High School in Anniston, Ala., and continued his education at Auburn University (War Damned Eagle) before joining the United States Air Force. At the young age of 14, David was an amateur HAM radio operator and the USAF put those skills to work aboard a Douglas C-124 Globemaster fondly nicknamed "Old Shaky." He was stationed at Donaldson AFB, S.C., with TDY to Europe and North Africa before his last duty station at Lockborne AFB, Ohio.
David also served 19 years as a member of the U.S. Coast Guard Auxiliary, a qualified Coxswain serving the waters of Lake Norman, N.C.
David loved riding motorcycles since a very young age and brought his entire family into that fold. David taught Gloria how to ride in the early 70s when women on motorcycles just was not accepted. To David, it was perfect because then all his girls could go ride with him. David was a long-time member of S.C.A.R.S., standing radio watch at least once a week for a number of years as K4MNS after retiring from the Wood Working and Manufacturing Insurance Risk industry.
David's many motorcycle trips over the Blue Ridge Parkway and back country road rides not to mention the thousands of miles across these United States was noted as his favorite thing to spend time in the sunshine along with camping and golfing, fishing the Outer Banks and the coast of North Carolina. David is riding the streets of Gold and will remain in the hearts of his family through the love he gave and the memories we made.
Graveside funeral services will be held at 2 p.m. on Sunday, April 18, 2021, at Oakwood Cemetery with military honors.
Troutman Funeral Home is serving the family.