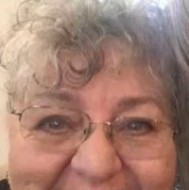 Sherry Petrosino Hayes, 78, of Mooresville, N.C., passed away on April 14, 2021. She was born on December 28, 1942, in Brooklyn, N.Y., to the late Michael Joseph Petrosino and Millie Wentz.
Mrs. Hayes was a long-time business owner of a healthcare nursing agency, Carolina Health Professionals, whom she owned with her best friend, Virginia Stewart. She was a very strong Christian, bible scholar, and a family-oriented lady. She was a very social woman, had the gift of hospitality, cared about everyone she met, and helped anyone in any way she could. Mrs. Hayes was always full of grace and forgiveness. She was often referred to as an angel. She enjoyed working outside in the garden with plants, cooking, and decorating.
She is survived by her children, Denise Hayes Moose (Daniel), Debby Hayes Malonzo (Marc), Dawn Hayes Allison (Danny), and Ray Hayes II (fiancée Lauren); brother, Donato Petrosino (Gerry); sisters, Dr. Maria Petrosino Epstein (Jeff), and Kathy Wentz Allen (Donnie); grandchildren, Brianna Reed, Bradley Moose (Brittany), Julia Anders, Bayleigh Nolan Moose, Banx King, Tatum Rachael King, Braxton Allison, Peyton Hayes, and Jordan Hayes; great grandchildren, Mason Moose and Micah Moose.
The family will receive friends on Sunday, April 18, from 4 to 4:45 p.m. with a service following at 4:45 p.m. at RiverLife Fellowship. Burial will follow the service at Glenwood Memorial Park.
For those who are unable to attend the service, you may go to the following link for the live stream https://www.youtube.com/channel/UC864hAs96dTRLVVL1la0Qlw/videos?view=2&flow=list
For those who are unable to attend the graveside, you may go to the following link for the live stream https://www.facebook.com/CavinCookFuneralHomeServices/
In lieu of flowers, donations can be made to Trinity Broadcasting Network (TBN), P.O. Box 316, Fort Worth, TX 76161-3160 or Joyce Meyer Ministries, P.O. Box 655 Fenton, MO 63026.
Cavin-Cook Funeral Home & Crematory, Mooresville, is serving the Hayes family. Condolences may be made to the family at www.cavin-cook.com.