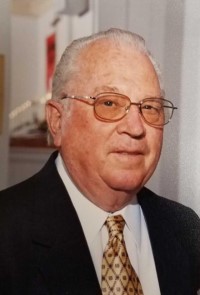 Beloved father, grandfather and great-grandfather David Ray Cline passed away on January 18, 2021, at the age of 93. Born December 19, 1927, to Major Foil and Edith Johnson Cline of Statesville, N.C., he attended Cool Springs School with his five brothers and sisters. Because he did not liking school, one of his teachers bribed him to continue attending by paying him a small amount of money each day.
Later, when he was old enough, David followed in the military footsteps of his older brother Glenn, an infantry soldier who served in Europe during WWII, and joined the U.S. Navy. He served aboard the USS Enoree AO/TAO-69 in the Pacific Fleet during the end of the war and afterward. During this time, he participated in Operation Crossroads and the atomic bomb testing performed in Bikini Atoll. His family is proud of his and his two brothers' service to their country. He maintained contact and friendships with his shipmates for many years, and enjoyed attending the annual reunions held in different cities across the country.
Following his military discharge, David returned to Statesville, where his family resides. While visiting other family members in Granite Falls, N.C., in early 1948, David met his future bride, Mary Ellen Kirby Cline, during a community snowball fight. Married four months after meeting and rarely seen apart throughout their 70-year marriage, they were each other's constant love and comfort, strength and support, until Mary Ellen's death at age 89 in April 2018.
David became an electrician after his military service and was employed doing both commercial and residential electrical work until his retirement in 1990. He and brother Glenn, an electrician with whom David had worked for many years at Modern Electric Company, continued to work together doing electrical jobs after their retirement. He enjoyed also working with his friend Barry Ehret's electrical company before hanging up his electrical tools for the last time.
David enjoyed many hobbies and activities throughout his life, especially those shared with his family. He and son Michael were avid duck hunters, spending cold winters ensconced in duck blinds on the Outer Banks of North Carolina. He also spent many weekend hours boating on Lake Norman and Lake Tillery, pulling Michael and his friends on skis behind.
David loved gardening, always growing much more than his family could use, and providing fresh summer and fall vegetables to family, friends and neighbors. He was also a talented woodworker, creating beautiful furniture and other items. His grandchildren treasure toys, chairs and games made especially for them by their grandfather, many of those decoratively painted by their equally talented grandmother. Mary Ellen and her dear friend Eveline Marlowe spent many hours making lovely handwoven baskets of various styles and colors from wood splints cut and dyed by David and Eveline's husband Bob.
David enjoyed socializing, and spending time with friends and family. He and Mary Ellen loved to travel, taking their grandchildren on annual trips and summer vacations, and enjoying bus tour trips with their friends. A quiet man with a dry sense of humor, David never met a stranger. He would always lend a helping hand, offer to help anyone in need, and volunteer his talents and services when he saw a task to be done. He was active in his church, a member of Cool Springs Volunteer Fire Department and, later, a founding member of Wayside Volunteer Fire Department, as well as a member of the Independent Order of Odd Fellows service and social organization. He and Mary Ellen also enjoyed their time as active members of the Hurst Turner American Legion Post 65 and the East Iredell Seniors group. One of the most rewarding experiences of his life was being a part of a building team, along with his friend Burt Boan, on a mission trip to build a church on St. Thomas in the Virgin Islands.
David was predeceased by his parents, his wife Mary Ellen, his son David Michael Cline, his brother and sister-in-law Glenn and Carolita Summers Cline, brother and sister-in-law Charles, also a Navy veteran, and Lillian Yarnell Cline, sister and brother-in-law Betty and Wayne Pope, brother-in-law Raymond Little, brother- and sister-in-law Hugh and Marvelann Kirby, brother-in-law Carroll Kirby, brother- and sister-in-law Carl and Lola Mae (Sis) Pennell, and brother-in-law Lonnie Bumgarner.
He is survived by his daughter and son-in-law Gaye and Richard Schooler, daughter-in-law Patricia Hearn Cline, granddaughter and her husband Ashly and Matt Carper, grandson and his wife David and Andrea (Andi) Cline, grandson Adam Cline, great-grandsons Aiden Carper and Deklyn Cline, great-granddaughter Rowyn Cline, sister Helen Cline Little, sister Pauline (Polly) Cline Hollar, sister-in-law Billie Kirby Bumgarner, and sister-in-law Glenda Kirby McLaughlin. He is also survived by nieces and nephews, great-nieces and -nephews, great-great nieces and nephews, and close cousins too numerous to name. In short, David and Mary Ellen and their two children were blessed with a large close-knit extended family, all of whom are very supportive of each other and enjoy being together whenever possible.
David will be buried with military honors during a family graveside service Saturday, January 23, 2021, at 3 p.m. at Iredell Memorial Park. A public memorial service will be held at a later date at Chapel Hill United Methodist Church in Statesville where he was a life-long member.
In lieu of flowers, David's family requests that those wishing to offer a memorial for him please consider making a donation to Gordon Hospice House, 2341 Simonton Road, Statesville, NC 28625, and note on your gift that it is to be designated for the "Sit-to-Stand Lift Fund." The Hospice House provides respite care for veterans residing in Iredell and surrounding counties who receive services through the VA, allowing their caregivers a brief time to take care of their own needs. Many of these veterans are unable to walk, but they, as well as some of the other Hospice House patients, do enjoy sitting up in a chair or being able to be taken into the bath for a shower or other toileting needs. The Hospice House does not currently have such a lift, requiring that patients remain in bed during their stays or be moved manually from the bed to either a reclining chair or the bath. This is not only difficult and often uncomfortable for the patient, it is also difficult for the Hospice employees attempting to perform the service. Having seen this need themselves, the family would be most grateful for your assistance in helping to meet it. As an alternative, they would also be deeply appreciative of a donation to David's church, Chapel Hill United Methodist, 109 Bethesda Road, Statesville, NC 28677, or to the organization of your choice.
David's family expresses their deepest appreciation to his private caregivers Libby White, CNA, and Justin Wilhelm, his VA caregivers Kay Christie and Stephanie Critchley, CNA, his Hospice of Iredell County caregivers Crystal Brown, CNA, Tita Arsiago, RN, and the various on-call Hospice nurses who assisted in after-hours emergency calls. Appreciation is also expressed to the rest of the Hospice home care team, to the Gordon Hospice House nurses and Respite Care team, to the volunteer emergency personnel of Wayside Volunteer Fire Department for their constant and immediate response to David's needs, to EMS employees of Iredell County for their immediate response and care, and to David's VA Home-Based Care Team. The coordinated efforts of these healthcare workers, especially during the past year of the virus crisis, have been exceptional and allowed David to stay in his own home throughout his lengthy illness. His family is very grateful for each of you.
Online condolences may be left at www.bunchjohnsonfuneralhome.com.
Bunch-Johnson Funeral Home is honored to be serving the Cline family.