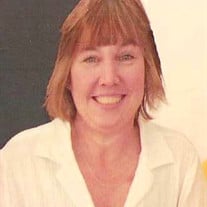 Debra Stewart Hardin, 56, of Mooresville, N.C., passed away on Wednesday, October 6, 2021. She was born on October 16, 1964 in Mecklenburg County to Helen Troutman Stewart and the late Robert Stewart.
Debra was a member of Liberty Baptist Church in Mooresville. She enjoyed traveling and shopping, but mostly she loved spending time with her family and friends. She will be greatly missed by all who knew her.
In addition to her father, she was preceded in death by her grandparents, JP and Mary "Mawmaw" Troutman.
In addition to her mother, she is survived by her loving husband, Gary Hardin; son, Michael Hardin (Megan); grandchildren, Caleb Wayne Hardin and twins on the way; and numerous other family members.
Funeral services will be held at 2 p.m. on Saturday, October 16, 2021, at Liberty Baptist Church with Rev. Eddie Graham officiating. Burial will follow the service at the church cemetery. The family will receive friends prior to the service from 12 to 2 p.m. at the church.
Cavin-Cook Funeral Home, Mooresville is serving the Hardin family. Condolences may be made to the family at www.cavin-cook.com.