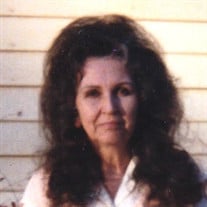 Betty Ann Boyles Campbell, 86, of Statesville, N.C., passed away on Monday, October 11, 2021, at Maple Leaf Healthcare.
Betty was born in Surry County, N.C., on March 18, 1935 to the late Colonel Howard Boyles Sr. and Mary Magdalene Tucker Boyles. She attended Surry County schools, and in 1953 she married Harvey Campbell. Together they shared 33 years of marriage before his passing in 1986.
Betty worked in childcare her entire working career. She loved children, and she believed that no child deserved anything less than the best. That is what led her to be affectionately known by a variety of nicknames, such as Ms. Betty, mama, and grandma to not only her biological children and grandchildren, but to children from and around the south Statesville area. Her house was the gathering place for any and all kids to gather. During her free time, she loved to work in her flower garden, which was a hobby that produced many beautiful flowers. She also enjoyed art activities, including drawing, coloring, and painting. She touched many children over the years, and she will be missed.
Along with her husband and parents, Betty was preceded in death by a brother, John Boyles; and three sisters, Irene Cox, Ethel Fulp, and Brenda Hobbs.
Left to cherish her memory are four sons, Rickey Campbell (Cathy) of Statesville, Timmy Campbell of NE, Andy Campbell of Statesville, and Michael Campbell (Gina) of Taylorsville; along with two daughters, Cheryl Campbell and Machell Campbell (Johnny), both of Statesville. She is also survived by eight grandchildren, Tara Castorena (Louis), Andrew Campbell, Corey Parsons (fiancée Krista), McKenna Sherrill (Zack), Ashley Parsons, Sylvia Fruia, Joseph Fruia, and Kayden Benfield. Four great-grandchildren, Alexis Johnson (Nolan), Landon Castorena, Harley Sherrill, and Josiah Sherrill; along with two brothers, Bobby Boyles of Statesville and Bill Boyles (Gail) of Bluffton, S.C., also survive.
A celebration of life service honoring Betty Campbell will be conducted at 2 p.m. on Sunday, October 17, 2021, in the Nicholson Funeral Home Chapel with Minister Kelly Hobbs officiating. The family will visit with friends and family starting at 1 p.m. at the funeral home. Burial will follow in Oakwood Cemetery.
For those unable to attend, the service will be streamed live at https://view.oneroomstreaming.com/authorise.php?k=1634169821142378
Nicholson Funeral Home is honored to be serving the family of Betty Ann Boyles Campbell.