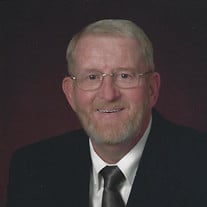 Mr. Dennis Russell Clary, 75, of Statesville, N.C., passed away Saturday, December 4, 2021, at Iredell Memorial Hospital.
Mr. Clary was born on April 30, 1946, in Princeton, Maine, to the late Fred and Phyllis Clary. He attended Stony Point High School and married his high school sweetheart, Carol Barnes Clar on November 12, 1966. He was a member of Western Avenue Baptist Church.
Mr. Clary joined the United States Marine Corps after high school then worked in sales for the remainder of his career. In his younger years, Mr. Clary enjoyed playing softball as well as serving as a deacon and Sunday School teacher. In his later years, he enjoyed community involvement as a charter member of the Iredell County Marine Corp League Detachment #1097 as well as organizing the first Troutman Independence Day Parade in 2003.
Mr. Clary is survived by his wife of 55 years, Carol Clary; daughter, Karen Clary Holman; (Jonathan); grandchildren, Dylan Holman (Bethany) and Madelyn Holman; and one brother, Dale Clary (Gale); along with several nieces and nephews.
Funeral services will be conducted at Western Avenue Baptist Church at 11 a.m. on Saturday. Dr. Jeff Spry will be officiating. Burial will follow at Iredell Memorial Gardens. Serving as pallbearers for Mr. Clary are Michael Millsaps, Mark Payne, Charles Schieck, Ralph Dagenhart, Dwaine Menscer, Blue Bentley, Kenny Morrison, and Atwell Brown. Honorary pallbearers include Bill Stewart, Mike Lafone, Terry Miller, Bobby White, David Benbow, and Benny Clary.
Memorial contributions can be made to Western Avenue Baptist Church Building Fund, 1206 Museum Road, Statesville, NC 28625 or to Hospice and Palliative Care of Iredell County, 2347 Simonton Road, Statesville, NC 28625. Condolences may be sent online to the family to www.nicholsonfunerals.com.
Nicholson Funeral Home is entrusted with the arrangements.