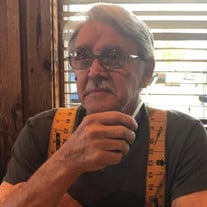 Donald Fields Ervin, 78, of Statesville, N.C., died Wednesday, December 1, 2021. He was born in Washington, D.C., on January 6, 1943, to the late Osborn Ervin and Cora Lee Simpson Ervin.
Donald had worked as a welder for Gilson Brothers and as a glass installer for Ingram Glass and Statesville Glass and Mirror. In his early years, he earned a blue ribbon in 4-H for his prize calf. Donald had a giving heart and loved helping others. He enjoyed gardening and farming.
Survivors include three sons, Donald Holzworth, Michael Holzworth (Jennifer), and Daniel Holzworth; a daughter, De Anne Ramos-Duarte; the mother of his children, Sharon Hodges; grandchildren, Cynthia, Omar, Janda, Michaela, Duncan, Nathan, Anna, Kara, and Samantha; great-grandchildren, Sarah, Nikki, Braylin, Brayleigh, Nova Star, Odin, Willie, Elijah, and Kizzie; and two sisters, Elouise Lanier and Betty Bryan (George).
Funeral Services will be held Wednesday, December 8, 2021, at 1 p.m. at the Nicholson Funeral Home Chapel. Entombment will follow at Iredell Memorial Gardens Mausoleum. The family will visit with friends Tuesday evening 6 to 8 p.m. at Nicholson Funeral Home.
Memorials may be sent to Richlands High School 4-H Club, 8100 Richlands Highway, Richlands, NC 28574. Fond memories and online condolences may be left at www.nicholsonfunerals.com.
Nicholson Funeral Home is serving the Ervin family.