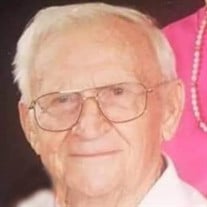 Paul Buenos Warren, 92, went to his heavenly home on December 2, 2021. He was born February 3, 1929, the son of the late Ed D. Warren and Eva Warren of Alexander County, N.C.
Paul was one of eleven children. Preceding him in death were his brothers, Joseph, Donald and Rollin, and sisters, Lee Patsel, Roberta Brown, Iva Cave, Helen Ward and Margie Warren.
Left to cherish his memory are his devoted wife of 72 years, Polly Shumaker Warren; the children who loved and admired him, Rodney D. Warren (Geri Forester) of Lincolnton, N.C., and Robert D. Warren (Cathy), and Donna W. Guy (George), both of Statesville. He was beloved grandfather to Amy Warren Howard (Brian), Holly Warren Wooten (Ben) and Adrienne Daniels (Alec Bruning); and five great grandchildren. He is survived by brothers, Robert Warren of Charlotte and Hoover Warren of Beltsville, Md; and numerous nieces and nephews.
Paul was a master woodworker and cabinet maker and retired from Sherrill Lumber Industries after a 30-year career. He served as a deacon and longtime children's Sunday school teacher. He loved reading, studying the Bible and was an amazing gardener. He proudly served his country in the U.S. Navy and in the U.S. Army. He loved God, his family, church, being outdoors and usually smelled of sawdust.
A funeral service will be held 2 p.m. on Thursday, December 9, 2021, at Gloryland Baptist Church, 613 Westminster Drive, Statesville, N.C., with Pastor Blaine Keaton Officiating. The family will receive friends one hour prior to the service at the church. Burial will follow the service at Iredell Memorial Gardens.
The family greatly appreciates the love and kindness shown by caregivers from Home Instead, particularly Jon Ledbetter. He was also blessed to be under the care of Mary Constantino, Phyllis Stevens, Kathy Pope, Pathways Palliative Care, and the excellent staff of Accordius.
Memorials may be made to Gloryland Baptist Church.
Nicholson Funeral Home is Assisting the family.