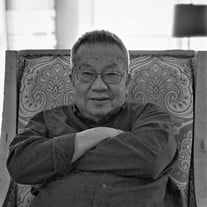 Dr. Prabhond Chinuntdet (Dr. Chin) passed away peacefully at the age of 86 on June 6, 2021, in Charlotte, N.C., due to medical complications following a severe fall. Dr. Chin was born April 8, 1935, in Bangkok, Thailand. After graduating from Chulalongkorn University Medical School in 1959, Dr. Chin completed his surgical residency in 1962 at Bangkok Sanitarium & Hospital, where he met the love of his life, Saichai (Sai) Daungmani, a R.N. In 1963, Dr. Chin immigrated to the U.S. and began working at Northwestern University Hospital in Chicago, Ill. Dr. Chin drove from Chicago to Cincinnati, Ohio, most weekends to see Sai, who had separately moved to the U.S. After a whirlwind romance, Dr. Chin and Sai were married on May 21, 1965, at the Chicago Buddhist Church.
In 1965, the newlyweds moved to Charleston, W.Va., where Dr. Chin became a surgical resident at Charleston Area Medical Center. In 1967, after finishing his residency, Dr. Chin partnered in a medical practice with Dr. O.D. MacCallum and joined the medical staff at Boone Memorial Hospital (BMH) in Madison, W.Va. In 1991, after 28 years of living in the U.S., Dr. Chin and Sai celebrated one of their happiest life moments by becoming naturalized U.S. citizens. For over 30 years until his retirement in 2000, Dr. Chin worked at BMH as a general surgeon, emergency room doctor, coroner and chief of staff. Dr. Chin was known by his colleagues, nurses and patients as an excellent surgeon who worked tirelessly to treat his patients. In 2016, BMH honored Dr. Chin and Sai for their service to the hospital and community by naming the Surgery Suites in the newly constructed BMH in their names.
An avid and passionate outdoorsman, Dr. Chin took his family on trips every chance he could by driving a RV while towing a bass boat. Some of Dr. Chin's fondest memories arose from trips in the cramped motorhome where the family lived for weeks traveling to different fishing locations. Many years later, the family calculated that they had fished in 38 states and several Canadian provinces before his sons graduated from high school. After Sai unexpectedly passed away in 2006, Dr. Chin moved to Dallas, Texas, to live with his favorite daughter, and they enjoyed discovering new Asian restaurants, watching Star Trek, cheering for the Manchester City soccer team and beating the house in blackjack across the U.S. In 2019, Dr. Chin hosted most of his surviving family in Thailand on a country-wide food tour of his birthplace.
Dr. Chin will be remembered as an intellectual man of few words who had a loving family and who possessed a focused work ethic, dry sense of humor and clear moral compass.
Dr. Chin was preceded in death by his parents and his wife, Sai. Dr. Chin is survived by his four children, John (and his wife Tonya) of Mooresville, N.C., Paul of Winfield, W.Va., Nick (and his wife Amber) of Marietta, Ga., and Angel of Dallas, Texas, plus his six grandchildren, Chelsey, Jason, Nicole, Sarah, Anderson and Alexander.
A celebration of Dr. Chin's life with his family and friends will take place at 3:30 p.m. on Saturday, July 24, at Handley Funeral Home in Danville, W.Va.(https://www.handleyfh.com/)
In lieu of flowers, the family asks that donations be directed to Boone Memorial Hospital at https://www.bmh.org/giving-tree-1
Cavin-Cook Funeral Home & Crematory, Mooresville, is serving the Chinuntdet family. Condolences may be made to the family at www.cavin-cook.com.