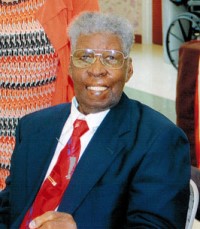 Mr. Elonzo White, 83, of 495 Signal Hill Drive, Statesville, N.C., passed away on Friday, June 4, 2021, at the Accordius Health Nursing Home in Statesville. He was born in Iredell County on November 25, 1937, to the late Perman Brown and Rosetta White.
He attended Iredell County Schools and was a member of Chestnut Grove Church. He worked at Statesville Roofing prior to his illness.
In addition to his parents, he was also preceded in death by three siblings, Jessie White, Clyde Curtis White and Rosie Moore.
He leaves to cherish the memory of his life his siblings, Joann (Nathaniel) Dunlap, Carolyn Brown, Lillie Murdock (T.C.), and Willie Bell Chambers; two sisters-in-law, Dorothy White and Lillian Holland; nephew, Donald Breedlove; niece, Joyce Breedlove; and a host of cousins, nieces and nephews, other relatives and friends.
Celebration of Life Services will be conducted Saturday, June 12, 2021, at 1 p.m. at Chestnut Grove Baptist Church. Reverend Dale Gibson will officiate and Reverend James Shade will eulogize with burial followed in the Chestnut Grove Cemetery.
Rutledge and Bigham Funeral Home is serving the family.