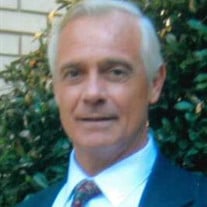 Dr. Robert Pressley Brawley, 68, of Mooresville, N.C., passed away peacefully surrounded by his family on Saturday, December 4, 2021. He was born on August 13, 1953, to Bobby and Betty Brawley of Mooresville.
He was preceded in death by his loving wife, Beverly Crabb Brawley. In addition to Mr. Brawley's parents, he is survived by three sons, Robert Blaine Brawley (Angie), Jason Pressley Brawley (Jennifer), and Blake Brawley Huggins (Richard); daughter, Haley Brawley Hanson (Stephen); sister, Jane Brawley Jordan; grandsons, Kaleel, Caleb, and Aaron; and granddaughters, Allyah and Morgan.
He was a graduate of Mooresville High School Class of 1971, University of N.C. Charlotte with a B.A. in 1974, Master in History, Minor in Sociology in 1975, then transferred to Erskine Theological Seminary, Due West, S.C., with a Master of Divinity and later received his Doctor of Ministry. Following his education, Dr. Brawley went on to serve as minister to the Camden A.R.P. Church in Camden, Ala., from 1978-1982, Faith Presbyterian Church, Mt. Mourne, N.C., from 1981 – 1993, Covenant Associate Reformed Presbyterian Church, Statesville, N.C. from 1993 – 2009, and Glenwood Presbyterian Church, Charlotte, N.C., in 2010, preaching, teaching, counseling and administrating, and serving his congregations. He served on the Board of Directors Upper Room Ministry of Statesville and the Iredell County Prison Ministry. He was a North Carolina High School Referee 1990-1995, and on the Exchange Club and the Lion's Club.
He enjoyed traveling to Hawaii, Europe and other places with his beautiful wife Beverly. They went scuba diving in Mexico and enjoyed summer beach trips with the family. He traveled on Mission Trips to India and Mexico.
A memorial service will be held at 1 p.m. on Friday, December 10, 2021, at Covenant Church, Statesville, with the Rev. Henry Cowles Bristol III officiating.
In memory of Dr. Brawley, donations are to be given to "Samaritan's International" and sent to 107 Sailview Road, Mooresville, NC 28117.
Cavin- Cook Funeral Home, Mooresville, is serving the Brawley family. Condolences may be made to the family at www.cavin-cook.com.