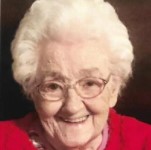 Edith Lucille Pardue Lambert, 97, of Statesville, N.C., died Saturday, November 6, 2021, at her home.
She was born in Wilkes County, N.C., on March 18, 1927, to the late Vance C. Pardue and Lelia Soots Pardue.
She was preceded in death by her husband of 68 years, L.W. Lambert, in 2014. She was also preceded in death by a daughter, Phyllis L. Lowe, on November 29, 2021.
Edith was a good Christian woman and loved her Lord. She loved to read her Bible and read it through at least twice a year. Next to her faith, her greatest love was her husband. She loved to spoil him and enjoyed working with him and helping with the cows. He was a great bluegrass musician and she loved to hear him play. Edith was a good Republican, and she enjoyed watching her game shows and gardening. She was a wonderful mom and Mamaw and loved her family.
Survivors include a daughter, Melissa Cornett (Tony); four grandchildren, Kristin Lowe, Derrick Cornett (Lana), Mykecha Robertson (Rodney), and Kaleah Hendren (Bradley), eight great-grandchildren, Dylan Cornett, Grace Marie Cornett Manners, Baylee McKenzie Lumpkin, Savannah Webb, Jasmyn Lowe, Chloe Grae Cornett, Emma Robertson, and Colt Hendren; three great-great-grandchildren, Payslie Manners, Solomon Manners, and Emersyn Lumpkin; two brothers, Phillip Pardue and Dickie Pardue (Judy); and a sister, Sudie Padgett.
Funeral Services will be held Sunday, December 12, 2021, at 3 p.m. at Sweet Home Baptist Church with Rev. Gary Blalock and Pastor Ottis Hurst officiating. The family will visit with friends following the service. Private burial will be held.
In lieu of flowers, memorials may be sent to Sweet Home Baptist Church, 7173 Somers Road, Union Grove, NC 28689. Fond memories and condolences may be left at www.nicholsonfunerals.com.
Nicholson Funeral Home is serving the Lambert family.