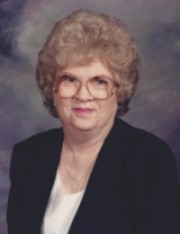 Edith Pauline "Polly" Cline Hollar died on Thursday, January 21, 2021, at Cadence Assisted Living in Mooresville, N.C. Born May 4, 1926, to Major Foil and Edith Johnson Cline of Statesville, N.C., she attended Cool Springs School.
Polly is survived by her sister, Helen Little; and numerous nieces, nephews and cousins. She was predeceased by her parents; her brother and sister-in-law, Glenn and Carolita Summers Cline; brother and sister-in-law, David and Mary Ellen Kirby Cline; sister and brother-in-law, Betty and Wayne Pope; brother and sister-in-law, Charles and Lillian Yarnall Cline; and brother-in-law Raymond Little.
Growing up on a farm, Polly learned the value of hard work and maintained that attitude throughout life. She retired from Intercraft Industries in 1990 and continued working in varied capacities until her early eighties. She loved dancing, and was a member of a square dance group for many years. Polly was always active and "on the move". Her neighbors enjoyed seeing her and Helen walking almost daily for exercise, but taking the time to stop for a greeting or little chat with them along the way. Polly was also an excellent baker, and often expressed her love to her family by baking special treats and birthday cakes for them. She was a member of the United Methodist Women at her church, and always present in the kitchen helping prepare the meal for the chicken pie fundraisers the group held for many years.
A memorial service will be conducted at a later date at Chapel Hill United Methodist Church in Statesville, where she was an active and life-long member. In lieu of flowers, Polly's family requests memorials to Gordon Hospice House, 2341 Simonton Road, Statesville, NC 28625, and note it is to be designated for the "Sit-to-Stand Lift Fund". As an alternative, the family would appreciate a donation to Polly's church, Chapel Hill United Methodist, 109 Chapel Hill Lane, Statesville, N.C. 28677 or to the organization of your choice.
The family is thankful for the staff at Cadence Assisted Living and the wonderful care provided during the past three years, and most recently appreciative to Hospice caregivers.