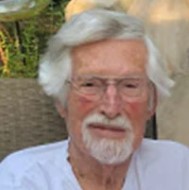 Edward Ernest Smith Jr., born February 20, 1930, in San Jose, Calif., passed away peacefully on February 11, 2021. He was an adoring husband to Dalia for 33 years; they shared a life of kindness, reliance and trust — the kind that becomes the ground you place your feet on every day. Their love for each other will live on forever, as such a special and nurturing love does.
In his young life Edward became an Eagle Scout, served in the U.S. Navy for five years, and was a recipient of the National Defense Medal and Good Conduct Medal. In 1966 he graduated from San Jose State University, where he earned a BSA in Industrial Engineering. Edward's rich and appealing voice led him to a career in radio, while his sharp brain and curiosity led his way as an entrepreneur, engineering computer parts that improved many processes back in the day when computers were a new tool for humanity.
Edward is survived by his son, Eric; daughter-in-law, Lynn; grandson, Digby; his sister, Sue; niece, Kirsten; nephew, Jeff; his beloved wife, Dalia; her children, grandchildren and great grandchildren. He loved the entire family, encouraging and supporting each person to seek and live their fullest life.
Edward and Dalia met later in their lives at a singles sailing club in San Francisco Bay, where Edward was one of the skippers. They scheduled group sails of 7-8 boats once a month. Dalia always signed up to sail as a passenger in Edward's boat. She started out as a "galley slave," and eventually was promoted to "Main Sail Flaker," and at last as First Mate. After their marriage in 1987, they continued their love of sailing, navigating through the wind atop the sea. The family cherishes the memories of sailing together through the San Juan Islands, Victoria, B.C., and the Caribbean, with Edward at the helm and map in hand, fresh crab cooking atop the sailboat stove, and his family crew taking turns jibing and tacking towards the sunset. Later in life, Edward and Dalia enjoyed adventurous river cruises down the European waterways, dining and dancing along the way. In 2012, Edward accompanied Dalia, along with her two daughters and three granddaughters, to Dalia's homeland of Lithuania. Dalia was thrilled to find her childhood home in a small village. They spent two weeks exploring Dalia's native country, visiting the famous Hill of Crosses, the castle at Trakai, and the Amber Coast while dining on exorbitant Lithuanian dishes of potatoes and beets along the way. This was a perfect example of Edward's enduring love, patience and support, without uttering a single complaint.
Edward will be missed by many, and remembered by all he knew. His strength and character will remain with us all in each passing sunset. Please raise a toast to his life on February 20, his 91st birthday, as we join in his remembrance and celebration of life. A private service will be held with military honors.
Condolences can be sent to the Cavin Cook Funeral Home in Mooresville, N.C.