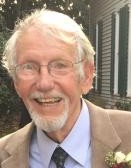 Edward "Marshall" Shanklin, 92, of Troutman, N.C., passed away on Tuesday, October 26, 2021, at Deerfield Assisting Living in Boone, N.C.
Marshall was born on December 27, 1928, in Mecklenburg County, N.C., and was the son of the late Leon Trover Shanklin and Hattie Sue Fogle Shanklin. He was a member of New Perth ARP Church with his wife Dorothy Whiteside Shanklin. He started DMA Inc. in 1972 and it is still in business today. Marshall served in the U.S. Army during the Korean War.
In addition to his parents, Marshall was preceded in death by his seven siblings.
In addition to his wife of sixty-eight years, Marshall is survived by his son, Richard Shanklin (Sandra); daughter, Sharon Orlowski (Ron); grandchildren, William Shanklin, Apryl Rondina, and Jonathan Rondina; and great grandchildren, Hunter Rondina, Savannah Medlin and Andrew Rondina.
A visitation will be held from 10 to 11 a.m. on Friday, October 29, at Troutman Funeral Home with funeral service to follow at 11 a.m. with Rev. Dan Hazen officiating. Burial will follow the service at New Perth ARP Church Cemetery with military honors.
Troutman Funeral Home is serving the family.