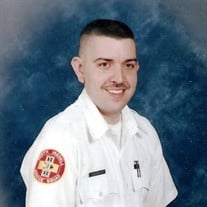 Jack Lawrence "Cody" Markle Jr., 45, of Harmony, N.C., died October 22, 2021 at his home. Born in Columbus, Ohio, on June 4, 1976, he was a son of the late Jack Lawrence Markle Sr. and Charlotte Hensley Hannaford, who survives.
Cody was employed by Allied Universal Security and was a member of the North Iredell Rescue Squad. He was an EMT.
In addition to his mother, he is survived by his wife, Patricia Jarvis Markle; a step daughter, Audrey Dixon; a step son, Jeffrey Stout; a sister Lynette Powell; and three step grandchildren, Isaiah Brooker, Izzabella Dixon and Olivea Dixon. Also surviving is a special friend, Michael Benfield.
A celebration of life will be held at a later date. Condolences may be sent online to the family to www.nicholsonfunerals.com. Memorials may be given to the North Iredell Rescue Squad, 1538 Tabor Road, Harmony, NC 28634.
Nicholson Funeral Home is serving the family.