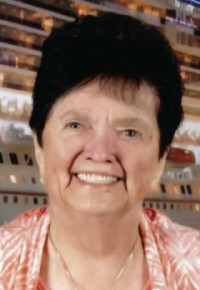 Ella Mae Hammond Gehling, 85, of Statesville, N.C., passed away peacefully on January 24, 2021, at her residence. Born in Honolulu, Hawaii, on December 4, 1935, she was the daughter of the late Louis Leon Hammond and Violet Clara Miller Hammond.
Ella spent her life as a military wife, as her husband Jerry was in the United States Marine Corps for 20 years. She was a stay-at-home wife and mother to her loving family. Some of her hobbies were enjoying playing at casinos, taking cruises and traveling when she could.
Once Ella met someone, they became her friend for life. Her outgoing personality and loving heart extended beyond her family to include everyone she came in contact with.
In addition to her parents, she was also preceded in death by one son, Dennis Dacosin; two brothers; and one sister.
Those left to cherish her memory are her husband of 46½ years, Jerry Allen Gehling; sons, Bernard Dacosin, Reginald Gehling and James Dacosin Jr.; daughters, Christine Farrar, Susan Dacosin, Jeri Leonard, Natividad Dacosin and Nancy Dacosin.
She is further survived by two sisters, Elizabeth Jordan of Cincinnati, Ohio, and Patricia Aho of Honolulu, Hawaii; eighteen grandchildren; and eleven great-grandchildren.
Mrs. Gehling will lie in state at Bunch-Johnson Funeral Home on Thursday, January 28, 2021, from 9 a.m. to 4 p.m.
The funeral service will be held on Friday, January 29, 2021, at 11 a.m. at Trinity Episcopal Church with The Rev. Brad Mullis officiating.
Memorial donations Breast Cancer Awareness, 120 E Lancaster Avenue Suite 201, Ardmore, PA 19003.
Online condolences may be left for the family at www.bunchjohnsonfuneralhome.com.
Bunch-Johnson Funeral Home is honored to be serving the Gehling family.