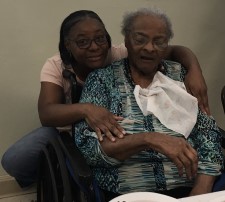 Mrs. Emma Marie Torrence, 89, the beloved daughter of the late Auther Torrence and Emmaline Brawley Torrence, was born in Iredell County on March 26, 1931. She entered eternal rest on February 18, 2021, at the Citadal Healthcare, following a short illness.
She was married to Nathaniel Alexander Torrence, who preceded her in death. In addition to her parents and husband, she was also preceded in death by her children, Jawayne Torrence, Wanda Deramus and Phyllis Torrence; daughter-in-law, Lucinda Torrence; five brothers, Rev. Carylle Torrence, Lester Torrence, Will Torrence, Lake Torrence, and John Torrence; five sisters, Orelia Sparks, Winnie Hooper, Roena Powell, Cordelia Powell and Moline Dalton; and a niece whom she raised, Catherine Witherspoon.
Mrs. Torrence went to Amity Hill School and was member of Bibleway Church, where she on the motherboard.
Survivors include her son, Elder Pressley N. (Margaret) Torrence of Kannapolis, N.C.; her daughter, Junita M. (Bishop Luke) Witherspoon of Atlantic City, N.J.; eight grandchildren, Pastor Thelma Witherspoon, Loukecler Bell, and Labodin Evans, all of Atlantic City, N.J., Minister Cotteth (Michael) Stafford, Bishop Luke A. (Jackie) Witherspoon II of New Jersey, Marcus Witherspoon of New Jersey, Phyllis (Nelson) Torrence Allen of Mooresville and Jawayne "Shorty" (Bobbie Jean) Torrence Jr., of Mooresville; raised as grandchildren, Jeff Witherspoon of Franklinton, N.C., and Tony (Beverly) Witherspoon of Raleigh, N.C.; three sisters-in-law, Carrie Knox, Barbara Torrence and Phyllis Lowery, all of Mooresville, NC; and a host of great grandchildren, great great grandchildren, nieces, nephews, other relatives, cousins and friends.
Celebration of Life Services will be conducted Wednesday, February 24, 2021, at 11 a.m. at Rutledge and Bigham Funeral Home. Overseer Georgia A. Daniels will officiate and Elder Christopher Daniels will eulogize. Burial will follow in the Bibleway # 6 Cemetery in Troutman.
Visit the Book of Memories for Mother Torrence at www.rutledgeandbigham.com.
Rutledge and Bigham Funeral Home is serving the Torrence Family.