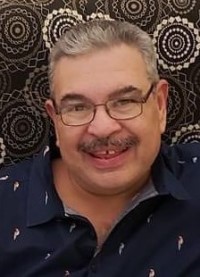 Esteban Quinones, 59, of Statesville, N.C., passed away at his residence on Tuesday, June 1, 2021. Born in Puerto Rico on October 23, 1961, he was the son of the late Esteban Quinones Roman' and Carmen Maria Fuentes.
He served in the United States Army from 1979 to 1982.
Those left to cherish his memory are his wife of 34 years, Mary Jane Mazzone Quinones; sons, Steve Quinones and Israel Quinones; daughter, Natasha Quinones; and step-daughter, Michelle Reynolds.
He is also survived by two brothers, Frank Ingemar Quinones and Robert Gonzales; one sister, Awilda Quinones; and four grandchildren.
A graveside service will be held Friday, June 11, 2021 at Salisbury National Cemetery, Statesville Boulevard location, at 1 p.m.
Condolences may be left at www.bunchjohnsonfuneralhome.com.
Bunch-Johnson Funeral Home is honored to be serving the Quinones family.