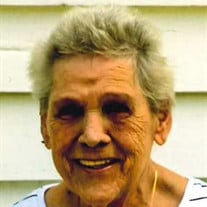 Ethel Marie Ervin Barnette, 83, of Mooresville, N.C., passed away on July 12, 2021, at her home. She was born October 22, 1937, in Mecklenburg County to the late Joseph Nelson Ervin and Christine Keziah Ervin.
In addition to her parents, she is preceded in death by her husband, Luther Calvin Barnette Sr., and four brothers. She worked at General Time, Davidson, as a clock assembler before her retirement. She was a member of Hopewell Baptist Church, Davidson.
She loved her family and will be greatly missed by all who knew her.
Ethel is survived by her children, Luther "Widdie" Calvin Barnette Jr. (Lisa), Stevie Eugene Barnette, David Holsinger (Terry), Teresa Cheeks (Eddie), Darlene Moore (Darin), Michelle Barnette, and Sharon Wright (Shane); brother, Johnny Ervin (Ginger); aunt, Addie Mae Keziah; 10 grandchildren; and 11 great-grandchildren; numerous nieces and nephews.
Funeral services will be held at 2:30 p.m. on Thursday, July 15, at Hopewell Baptist Church with Rev. Sammy D. Pierce officiating. Burial will follow the service at the church cemetery. The family will receive friends prior to the service from 1 to 2:30 p.m. at the church.
Cavin-Cook Funeral Home and Crematory, Mooresville, is serving the Barnette family. Condolences may be sent to the family at www.cavin-cook.com.