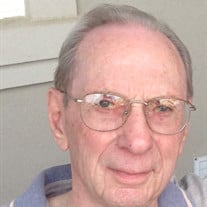 Allen Edward Pfeifer of Mooresville, N.C., passed away Friday, July 9, 2021.
He was born in Columbus, Ohio, to Louis and Lucille Pfeifer. After being a blimp pilot in the Naval Lighter than Air Corps during World War II, Allen graduated from the University of Louisville Speed School of Engineering with a degree in mechanical engineering. A professional engineer, Allen spent most of his career at Ward Engineering as the principal engineer and executive vice president. A life-long golfer, Allen also enjoyed playing bridge and spending time with his family.
Allen is survived by his children, Michael Pfeifer (Sonya), Patricia Kamperschroer (John), Lauren Harrison (Tommy), and Daniel Pfeifer (Robynne); and his sister, Cynthia Andrews (Todd). He is also survived by eight grandchildren, nine great grandchildren, and one great great grandson.
He was preceded in death by his wife of 60 years, Patricia Kirn Pfeifer; his son, Stephen Pfeifer; grandchild, Lawrence Pfeifer; brothers, Richey Pfeifer and Phillip Pfeifer; and two of his sisters, Jean Pfeifer and Carolyn Kelley.
In lieu of flowers, gifts may be made to the Make-a-Wish Foundation. A celebration of Allen's life will be held in Louisville, Kentucky, at a later date.
Cavin-Cook Funeral Home and Crematory, Mooresville, N.C., is serving the Pfeifer family. Condolences may be sent to the family at www.cavin-cook.com.