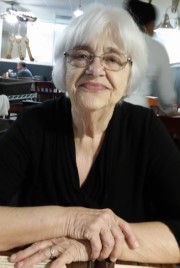 Mrs. Faye Mahaffey Cook, 77, of Troutman, N.C., passed away Monday, February 8, 2021, at Iredell Memorial Hospital.
Mrs. Cook was born April 16, 1943, in Iredell County and was the daughter of the late Mitchell Cleveland Mahaffey and Estelle Lail Mahaffey. She was a graduate of Celeste Henkel School and on July 1, 1961, she married Walter Ivey Cook Jr., who survives. She was a manager of Pic & Pay Shoes and was a member of South River Baptist Church, was a Sunday School teacher at Diamond Hill Baptist Church and Space Cub Leader at Fern Hill Baptist Church. Faye loved her family, friends, pets and especially her grandchildren.
In addition to her husband, she is survived by two sons, Eddie Cook (Suyong) of Fishers, Ind., and James Cook (Connie) of Statesville; four grandchildren, Mitchel, Morgan, Caroline and Lizzie Cook; two sisters, Kay Stokes (W.G.), and Annie Welborn (James); and two brothers, Gene Mahaffey (Fay) and Dale Mahaffey (Cyndi). She was preceded in death by one sister, Alma Medlin and her husband Ted.
Funeral services will be held at 12 noon on Saturday, February 13, 2021, at South River Baptist Church with Pastor Chris Thompson officiating. The family will visit with friends on Saturday from 10:30 a.m. to 12 noon at the church. Burial will follow in the Iredell Memorial Gardens Cemetery.
Memorials may be made to Hospice & Palliative Care of Iredell County and online condolences may be made to the family at www.troutmanfuneralhome.com.
Troutman Funeral Home is serving the family.