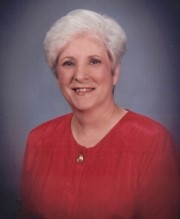 Judy Maxine Little Stikeleather, 80, of Statesville, N.C., passed away on Tuesday, February 9, 2021, at her home after a period of decline in health.
Mrs. Stikeleather was born on July 20, 1940, in Iredell County and was the daughter of the late Ramsey Maxwell and Zelda Nevada Hefner Little. She attended Scotts High School. She married Thad Stikeleather on December 20, 1958. She worked at JC Penney for many years. She enjoyed reading, birdwatching and family vacations, usually to the beach or the mountains. Thad and Judy were long-time members of Monticello United Methodist Church.
In addition to her parents, Judy was preceded in death by her son, Tony Stikeleather (his wife Christine surviving); and four sisters, Barbara Keller, Carole Brown, Patsy Gregory and Brenda Woodfin.
She is survived by her husband of 62 years, Thad Stikeleather; three sons, Tim Stikeleather (Aliza) of Statesville, Chris Stikeleather (Cindy) of Statesville, and Kevin Stikeleather (Kathy) of Statesville; one daughter, Kimberly Stikeleather of Statesville; eleven grandchildren, Adam Stikeleather (Jessie), Morgan Whaley (Charlie), Hannah Elsenboss (Craig), Kala Bryden (Robert), Sarah Stikeleather, Bo Stikeleather (Heather), Bethy Worley (Zack), Koda Stikeleather, Angelica Rodriguez, Ashley Muncy (Steven), and Caleb Anderson (Carrie); and seven great grandchildren.
A graveside service will be held at Concord Presbyterian Church Cemetery at 3867 Taylorsville Highway, Statesville, on Friday, February 12, 2021 at 11 a.m. with Rev. Amy Spivey and Rev. H.L. Talbert officiating. Acting pallbearers will be Adam Stikeleather, Bo Stikeleather, Koda Stikeleather, Craig Elsenboss, Robert Bryden, Charlie Whaley, Zack Worley and Marc Gregory.
In lieu of flowers, memorials can be made to Monticello United Methodist Church, 308 Island Ford Road, Statesville, NC 28625 or Hospice and Palliative Care of Iredell County, 2347 Simonton Road, Statesville, NC 28625. Condolences can be made to the family at www.troutmanfuneralhome.com.
Troutman Funeral Home is serving the family.