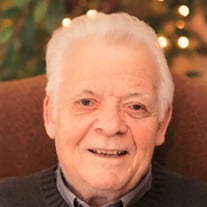 Frank Dean Raffa Jr., most recently a resident of Maple Leaf Health Care of Statesville, N.C., formerly of Huntersville, N.C., and previously of Lake Grove, N.Y., passed away peacefully on November 16, 2021, after a long illness.
Frank was preceded in death by his loving wife Ann; his brothers, Edward and Joseph; and his parents.
He is survived by his sons Steven of Salisbury, N.C., and Richard and his wife Michele of Mount Ulla, N.C.; his sisters, Marie, Laura, and Dolores of Brooklyn and Staten Island, N.Y., and many nieces and nephews.
Frank was born on October 13, 1935, in Brooklyn, N.Y., the second child of Frank and Laura (Pedreschi) Raffa. He was a veteran and served in the United States Army. Frank had a very successful career in the baking and bread business. He initially worked in the family bakery and subsequently worked for Bond Bread, and thereafter as a supervisor for Entenmann's Inc. of Bay Shore, N.Y, for many years. Following retirement from Entenmann's, Frank was employed by Hertz. In his spare time, he enjoyed watching the New York Giants, playing golf, cooking, and gaming.
No services will be held at this time.
Cavin-Cook Funeral Home & Crematory, Mooresville, is serving the Raffa family. Condolences may be made to the family at www.cavin-cook.com.