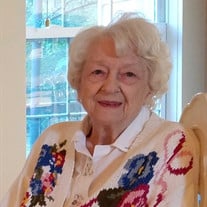 Geneva Payne Bridges of Mooresville, N.C., passed away peacefully in her home on Tuesday, May 25, 2021, at the age of 96.
The daughter of Jacob Timothy Payne and Fannie Grimes Payne, Geneva was born in Danville, Va., on January 28, 1925. She grew up during the Great Depression and her father sold produce to provide for the family.
Geneva was proud of her occupation as a legal secretary and devoted to caring for her family as a homemaker. She loved diligently working on crossword and jigsaw puzzles, playing Bridge, spending time with her family, and especially her role as "Granny," caring for her grandchildren in their early years. Geneva was an avid reader and enjoyed saving and sharing newspaper and magazine clippings with her family members, always wanting to share good advice.
She was preceded in death by Jacob Timothy Payne (father), Fannie Grimes Payne (mother), Thomas Kenneth Bridges (husband), Jeanette Payne Dodd (twin sister), Woodrow Jefferson Payne (brother), Curtis Wesley Payne (brother), and William Leonard Payne (brother).
Geneva is survived by Jacob Timothy Payne Jr. (brother), Charles Payne Bridges (son) and his wife Yvonne Brock Bridges, Timothy Roland Bridges (son) and his wife Hsiu Chiu Chang, Elizabeth Martin Bridges (granddaughter), Thomas Martin Bridges (grandson) and his wife Kara Jeanne-Phillips Bridges, Emory Jeanne Bridges (great-granddaughter), Jason Karl Thayer (grandson), and many beloved nieces and nephews.
Geneva will be best remembered as a spirited and loving mother, grandmother, and great-grandmother and will be greatly missed.
The family will have a private graveside service in Danville, Va. In lieu of flowers, memorial donations may be made to Atrium Health Levine Cancer Institute or St. Jude's Children's Research Hospital.
Cavin-Cook Funeral Home & Crematory, Mooresville, is serving the Bridges family. Condolences may be made to the family at www.cavin-cook.com.