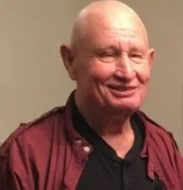 George Howard Holshouser, 73, of Mooresville, N.C., passed away on Saturday, January 23, 2021, at his residence. He was born on October 28, 1947 in Salisbury, N.C., to the late Robert Jacob Julius Holshouser and Gladys Roberts Holshouser.
Howard worked with his family's business, Mooresville Iron Works, for 17 years. He retired after 25 years as a used car salesman. He attended Redemption Baptist Church in Statesville, First Independent Baptist Church in Blowing Rock, Mt. Mourne Church of God in Mt. Mourne, and Providence Place Church in Gastonia. He loved all his pastors and his church families.
In addition to his parents, he was preceded in death by his wives, Marilyn Pender Holshouser and Rita Hager Holshouser; and brother, J. Richard Holshouser.
Howard is survived by his brother, Robert J. Holshouser Jr. and his wife Susan; sister, Lorra Lee Holshouser; sister-in-law, Rebecca Holshouser; and numerous nieces and nephews.
The family will receive friends on Thursday, January 28, from 1 to 2 p.m. with a service following at 2 p.m. at Mooresville Church of God with Rev. Donald Wise, Rev. Gary Shew, and Rev. Bobby Gilley officiating. Burial will follow the service at Glenwood Memorial Park.
In lieu of flowers, memorials may be made to First Independent Baptist Church, P.O. Box 2394, Blowing Rock, NC 28605 or Mt. Mourne Church of God, P.O. Box 468, Mt. Mourne, NC 28123 or Providence Place Church, 4007 York Highway, Gastonia, NC 28052 or Mooresville Church of God, 520 Brawley Avenue, Mooresville, NC 28115.
Cavin-Cook Funeral Home & Crematory, Mooresville, is serving the Holshouser family. Condolences may be made to the family at www.cavin-cook.com.