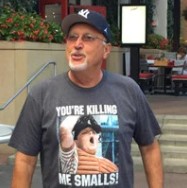 Edwin W. Bice Jr. passed away on January 20, 2021, in Mooresville, N.C. He was the son of Edwin Bice Sr. and Louise Bice of South Edmeston. His sister Nina Crandall predeceased him and his surviving sister Ruth Calhoun currently lives in Whitesboro.
Ed had five children with his wife Bev, who passed from cancer eight years ago. Ed and Bev were married for 44 years. Their third child, Angie, lived only a few hours after her birth. He is survived by his children, Edwin W. Bice III and his wife NiCole, Amy Bice, Christopher (Cubby) Bice and his wife Brooke, and Matt Bice and his wife Rusty, who all lived near Ed in the Town of Mooresville. In addition, he is survived by 10 grandchildren ranging in ages from 12 to 23, Briana, Makenzie, Sierra, Bodie, Madison, Brock, Paris, Landon, Jordyn and Bailey.
Ed grew up in South Edmeston and would later graduate high school from New Berlin in the Class of 1964. He played soccer and was a standout basketball and baseball player in high school. He had the opportunity to play basketball at St. Bonaventure but instead chose to serve his nation during the Vietnam conflict. As he put it, he attended the South Vietnam School of Warfare, where he was a medic on his team. While in training for combat in Spokane, Wash., he met Bev at a party. Upon his return to the United States, they married and moved back to upstate New York.
Ed began a long career in the power industry, first working as a lineman for New York State Electric and Gas. He would move over to New York Power Authority, where he worked for 25 years and eventually retired as the Transmission Line and Substation General Supervisor.
Ed played on numerous basketball and softball teams in upstate New York. As his boys grew older, he eventually started coaching and would do so for the next 40 years. He started out as a Little League coach for his oldest son and would coach his other two sons as well. He moved onto coaching Senior Little League and eventually Clonan Post 1000 from Chadwicks, N.Y. He also coached baseball and basketball at Mount Markham High School for several years. He was the driving force behind the creation of the Mount Markham Area Youth Association. He wanted to give the kids from Mt. Markham the opportunity to play organized sports prior to seventh grade.
After moving to Mooresville to be closer to his kids upon his retirement from Power Authority, Ed helped to start the baseball team and coached at the new Mt. Mourne IB School. Of course, they would win the championship that first year. He coached his grandson with his son, Matt, and his "adopted son" Josh Atwell in baseball on travel teams for several years. He worked one on one with numerous baseball and basketball players in the area. He was currently the pitching coach at Lake Norman High School and was working with the boys just over a month ago. In addition, he assisted his son, Cubby, with the junior high basketball team at Mt. Mourne IB. He liked to remind him that his team went undefeated and won the league last year while Cubby's team fell short in the title game. Ed worked with easily 750 kids or more in his 40 years of coaching. He was known as Papa to his family and friends and the kids he coached.
He was always a man that showed you his priorities by his actions. His true joy in life was spending time with his grandkids. He attended nearly every game that any of his grandkids played, including traveling to Florida and other states. He took his granddaughters on shopping trips and to the spa. He loved playing golf with his grandsons. They got to play three times a week this past summer and of course they would have to go eat after every round. He took the boys on numerous trips to watch Major League Baseball games as well. He took three cross-country trips to watch baseball with his sons and they hit 15 different ball parks, including a trip up the entire coast of California.
Ed was a great pool player and a die-hard Yankees and Syracuse Orange fan. He loved taking family, friends, and even strangers out on the boat for a ride around Lake Norman and then to his favorite restaurants. Going through his senior yearbook recently, we saw a quote from a classmate describing Ed that read "I'll get that." He was always a very generous man and you would have to fight him for the check at the end of a meal.
Few people will make as great an impact on as many lives as Papa Bice. He was a second father to the friends of his sons and a dependable friend that you could always count on. The world is a lesser place today without him being in it.
Calling hours will be held on Friday, January 29, from 12 to 2 p.m. at Cavin Cook Funeral Home in Mooresville followed by a service at 2 p.m. in the chapel.
Cavin-Cook Funeral Home, Mooresville, is serving the Bice family. Condolences may be made to the family at www.cavin-cook.com.