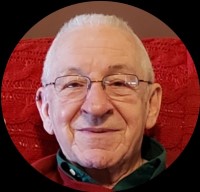 George Lowell Lucas, 81, of Harmony, N.C., passed away Saturday, February 20, 2021, at Gordon Hospice House in Statesville, N.C. Born in Muskingum County, Ohio, he was the son of the late William Jennings Bryan Lucas and Jollette Fogle Lucas.
In addition to his parents, he was also preceded in death by one brother, Richard Bryan Lucas; and two sisters, Isa Pearl Lucas and Gloria Ann Lake.
Mr. Lucas worked as a truck driver and Rinker mechanic. He retired from Freightliner.
He was a member of Faith Church Statesville, where he served faithfully. He sang in the choir, was a deacon and had served as chairman of the Deacon Board, served on the Bereavement and Fellowship Committee, was the "dessert test taster" for the Senior Saints Committee and, alongside his wife Janet, he taught Sunday school at Statesville Manor.
George enjoyed his 1952 Harley and 1952 Chevy as well as riding bikes, working on cars and his Lionel trains. His greatest passion was his family.
Those left to cherish his memory are his wife of 63 years, Janet Emma Frame Lucas; his children, Terry Lowell Lucas, Cynthia JoAnne Prado (Francis), Patricia Sue Foster and Bryan Scott Lucas (Melanie); 14 grandchildren, 21 great-grandchildren and one great-great grandchild.
The family will speak to friends from 2 to 3 p.m. on Tuesday, February 23, 2021, at Faith Church. The Celebration of Life service will follow at 3 p.m. with Rev. Tim Lowery officiating. Burial will be in the church cemetery.
The family would like to express their sincerest appreciation to the staff and nurses at Gordon Hospice House for the exceptional love and care shown to George and his family. Also, a special thank you is given to Texie Blackburn, who was George's in-home nurse.
Memorial donations may be made to Gordon Hospice House, 2341 Simonton Road, Statesville, NC 28625.
Condolences may be left for the family at www.bunchjohnsonfuneralhome.com.
Bunch-Johnson Funeral Home is honored to be serving the Lucas family.