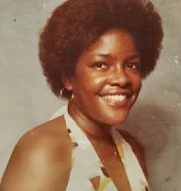 Geraldine Audrey Johnakin, 69, of Mooresville, N.C., passed away on Thursday, January 14, 2021. She was born on May 1, 1951 in Brooklyn, N.Y., to the late William and Bernice Penson Johnakin.
She was a nurse for over 30 years, starting as a candy striper. She enjoyed crocheting, shopping and reading. She was a mother figure to many people. A hard worker and strong woman, she had a big heart, always willing to help anyone who needed it and loved to eat Fred's ham and ribs. She loved her family and all her grandchildren, great grandchildren.
In addition to her parents, she was preceded in death by her brother, William T. Johnakin.
She is survived by her children, Dwayne Hyman (Simona), and Fredrick Johnakin; sister, Regina Norris; grandchildren, Jonathan Hyman, Daniel Hyman (Racheal), Stephanie Jones (Darren), and Marcus Cloud; great grandchildren, Makayla Hyman, Ezekiel Hyman, Ryker Hyman, Lekai Jones, and Elaina Jones; special nieces and nephews, Bernice Johnakin, Cory Ford, Keith Johnakin, Joyce Ford, Matthew Johnakin, and Michael Johnakin; and other nieces and nephews.
A memorial service will be held on Saturday, January 23, at 11 a.m. in the Cavin-Cook Funeral Home Chapel with Richard Hare officiating. For those who are unable to attend the service, you may go to the following link for the live stream: https://www.youtube.com/channel/UC864hAs96dTRLVVL1la0Qlw/videos?view=2&flow=list
Cavin-Cook Funeral Home, Mooresville, is serving the Johnakin family. Condolences may be made to the family at www.cavin-cook.com.