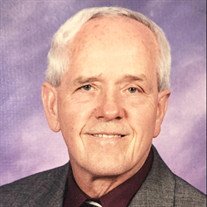 Harold Frank McDaniel, 84 of Gardendale, Ala., died Saturday, March 6, 2021, at Maple Leaf Health Care in Statesville NC. He was born on June 6, 1936, in Birmingham, Ala., to the late Vanus McDaniel and Lucille Livingston McDaniel. He was also preceded in death by a son, Timothy Dale McDaniel.
Frank graduated from Woodlawn High School in Birmingham, Ala. While there he joined a singing group called "The Warblers." He continued singing with them until just a few years ago as his health no longer allowed it.
Frank served his country with the U.S. Army and worked for Reynolds Aluminum. For many years he was active in the Sunday Club with his church. Frank volunteered at the homeless shelter in Birmingham and enjoyed helping those there. He loved traveling, riding his motorcycle, boating and was an avid Alabama fan. Roll Tide!
Those left to cherish his memory are his wife of 59 years, Lorene Johnson McDaniel; a daughter, Malia Jeffreys; and five grandchildren, Bethany, Parker, Ingrid, Simon, and Noah.
A Funeral Service will be held Thursday, March 11, 2021, at 11 a.m. (EST) at the Nicholson Funeral Home Chapel with Pastor Mike Wells officiating. Private burial will be held at the National Cemetery in Salisbury, NC.
In lieu of flowers, memorials may be made to Lighthouse Church "Missions Fund," P.O. Box 3023, Mooresville, NC 28117.
Nicholson Funeral Home is serving the family.