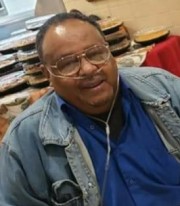 Harry Wood Lynch, 70, was born in Yadkin County to the late Rufus and Willie Mae Lynch on July 14, 1950.
At the young age of 24, Harry entered the U.S. Army and served in Korea for 15 months. Known as "Red Eye," Harry formed a true brotherhood and, in his brothers' words, "a brotherhood that lived in perfect harmony."
The True Brotherhood:
Desi Cooper (Edenton, N.C.);
Charles Ford (Burlington, N.C.);
Ray Holmes (Burlington, N.C.);
Wayne Wade (Yanceyville, N.C.); and
Charles Thomas (Hershey, Pa.)
Harry was definitely known as the life of the party! From Korea to North Carolina and from church to home, Harry was definitely that man!
In words of the brotherhood:
"Stand in Power"
"Red- Black- Green"
"Power Check to our Brother"
When Harry returned home, he worked at Chatam Manufacturing for many years. Before returning to his hometown of Yadkinville, he joined Piney Grove Church in Harmony, N.C. There he served on the Deacon Board and was a faithful member of the church. He enjoyed spending time at drag races and watching Westerns, but mostly he was known for patiently waiting for a listening ear. Harry always had a story to tell. If you were in his presence, you were sure to be laughing.
Following a period of illness, he moved in with his daughter and son-in-law before passing away surrounded by family at Wake Forest Baptist Medical Center on February 1, 2021.
In addition to his parents, Harry was preceded in death by two brothers, Bobby Lynch and Richard Lynch; and four sisters, Beatrice Weaver, Betty Dobson, Ida Skinner and Mary Lynch.
He is survived by his son Philip (Heather) Johnson and his daughter Shanita (Kenneth) Dobson; two brothers, David Lynch and James (Cester) Lynch; six grandchildren, Mattieu Sawicki-Johnson, Hailey and Seth Johnson, DaKiya and DeMarlo Linville, and Tyla Lynch; and a host of nieces, nephews and cousins.
Rutledge and Bigham Funeral Home is serving the family.