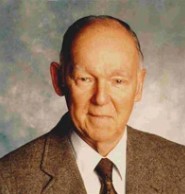 Louis Joseph Fournier, 101, of Mooresville, N.C., went to be with the Lord Sunday, January 31, 2021.
He was born June 8, 1919, in Rogersville, New Brunswick, Canada. In the 1920s his family moved to New Bedford, Mass. Mr. Fournier, who spoke fluent French, was a corporal in the U.S. Army in during World War II and served in the European Theatre as a Tech 5 X-Ray Technician and interpreter.
After the war, Mr. Fournier married and moved to New York City and worked as a senior furniture salesman at the flagship Brooklyn A&S Store, a position he held until 1988, when he received a lifetime sales award.
Lou was a devout Catholic and a Fourth-Degree Knight of the Knights of Columbus in Floral Park, N.Y., where he lived for over 60 years. In 1996 he moved to St. Petersburg, Fla., returning to Floral Park in 2008. He moved with his family to Mooresville in 2016.
Mr. Fournier was predeceased by his wife, Emily, who passed away in 1994, and by his son Lawrence, who passed in 2019. He is survived by his daughter, Elise Becker and her husband Bob; grandson Michael Becker and his wife Jennifer; and great grandchildren Ryan, Madelyn and Aiden.
A funeral mass will be held Thursday, February 4, at St. Therese Catholic Church in Mooresville, to be followed by a military funeral at Calverton National Cemetery in Calverton, N.Y.
Cavin-Cook Funeral Home, Mooresville, N.C., will be serving the Fournier family with local arrangements. Condolences may be made to the family at www.cavin-cook.com.