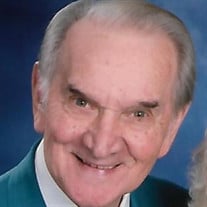 Harvey S. "Benny" Benfield Jr., 85, of Statesville, N.C., died Wednesday, October 20, 2021.
He was born in Iredell County, N.C., on August 10, 1936, to the late Harvey S. Benfield Sr. and Tressie Timms Benfield.
Benny was also preceded in death by his beloved wife, Barbara Ann Gregory Benfield, on September 11, 2020, and 11 siblings.
Benny was an active man. He enjoyed motorcycling, ice skating, and snow skiing. Benny loved music. He sang, wrote songs and played lead guitar on country and gospel songs along with his wife for over 60 years, playing in many churches and most of the local nursing homes. He established Iredell Air Care, where he was owner, operator and CEO in aircraft maintenance. He served his country in the U.S. Air Force. He loved his Lord. He was a master storyteller and joke teller. Most of all, he loved his precious wife, Barbara.
Those left to celebrate his memory are two sons, Jeff Benfield (Elizabeth) and Randy Benfield (Ronda) both of Statesville; and two daughters, Retha B. Davis (Kevin) of Catawba and Kristina B. Ferri (Guy) of Charlotte. He is also survived by nine grandchildren, Jennifer Scott, Daniel Benfield (Samantha), Zac Benfield, Luke Benfield (Corinne), Kasey Benfield (Roy), Lara D. Freeze (Brad), Josh Houston (Amanda), Lily and Gabriel Ferri; and nine great-grandchildren, Abigail and Jack Scott, Uriah, Eden and Shiloh Benfield, Davis and Lynleigh Freeze, and Brayden and Ryan Hedrick.
A brother, Ray Benfield (Evelyn) also survives.
Funeral services honoring the life of Benny Benfield will be conducted at 3 p.m. on Sunday, October 24, 2021, at Beulah Baptist Church with Rev. Brian Burgess and David Johnson officiating. Burial will follow in the Beulah Baptist Church Cemetery with full Military honors and Masonic rites. The family will visit with friends from 2 to 3 p.m. at the church prior to the service. Active pallbearers will be Brad Freeze, Gabriel Ferri, Bobby Gage, Todd Sharpe, Tony Sharpe, Tony Gregory, Clay Lackey, and Joe Anderson. Honorary pallbearers will be Ronnie Black, Billy Smith and Darrel Bryant.
In lieu of flowers, memorials may be made to Alzheimers Association, 225 N. Michigan Avenue, Floor 17, Chicago, IL, 60601. Fond memories and condolences may be left at www.nicholsonfunerals.com.
Nicholson Funeral Home is serving the family.