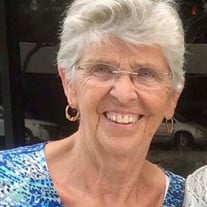 Hedwig "Heddy" Agnes Cousoulis, 84, recently of Mooresville, N.C., passed away on Sunday, November 28, 2021, following a brave battle with cancer. She was born on August 22, 1937, in Holland to the late Herman and Ida Kwak Forrer.
Mrs. Cousoulis was retired from British Airways. She loved her family, especially her grandchildren and cat Sophie. She enjoyed swimming, scuba diving, and traveling.
In addition to her parents, she was preceded in death by her husband George Cousoulis; sister Clasien DeVries; and brothers Joop, Frits, and Paul Forrer.
She is survived by her children, Boyd Cousoulis and wife Michelle, Paul Cousoulis, Denise Holden and husband Brett, and Marc Cousoulis and wife Amelia; sister, Engelien Forrer; stepsister, Atie Zentveld and husband Nico; grandchildren Corey, Kelly, Anna, and Maya; as well as scores of nieces, nephews and cousins.
Adored by friends and family worldwide, Heddy will be sorely missed.
A Celebration of life will be held at a later date. In lieu of flowers, memorials may be made to the American Cancer Society at http://main.acsevents.org/goto/Hedwig_Cousoulis
Cavin-Cook Funeral Home & Crematory, Mooresville, is serving the Cousoulis family. Condolences may be made to the family at www.cavin-cook.com.