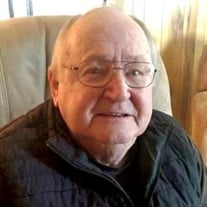 Jack Myers Jurney, 85, of Statesville, N.C., passed away peacefully on August 7, 2021.
He was born February 8, 1936, in Olin, N.C., the son of the late Frederick Dewey Jurney and Lucy Bruce Jurney. He was preceded in death by his beloved life partner JoAnn Scarborough; brothers, Buck Jurney, Fred Jurney and C.B. Jurney; sisters, Christine Sharpe, Barbara Jean Fulbright, Patsy Wood, and Brenda Johnson; and granddaughter, Jordan Jurney.
Jack proudly served his country as a United States Marine. He was forward deployed aboard the USS Coral Sea and remained closely connected with those sea-going Marines. Following his service to our nation, he worked for over 40 years as a truck driver, traveling all across the U.S. Jack was known for his sense of humor, generous heart and gift of telling a great story. He will be missed by all his family and friends who were lucky enough to have him in their lives.
Left to cherish his memory are his son, Lt. Gen. William Jurney (USMC) and wife Sue Ellen; grandchildren, Troy Jurney and Madison Jurney; sisters, Frances Caudle, Irene Nates, Linda Goodwin, and Bonnie Jurney; brother, Jimmy Jurney; and numerous other loving family and friends. He will also be lovingly remembered by the families of Gretchen Land, Laura Brewner and Gail Batten.
There will be no formal visitation; however, there will be a viewing at Nicholson Funeral Home on Tuesday, August 10, from 2 to 5 p.m. A graveside service will be held at 10:30 a.m. on Wednesday, August 11, 2021, at Sandy Ridge UMC Cemetery in Statesville, N.C.
Please share memories and condolences with the family at www.nicholsonfunerals.com.
Nicholson Funeral Home is serving the family.