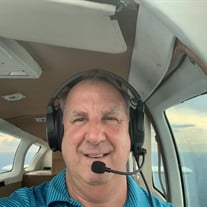 James 'Mark' Harper, born January 3, 1961, in Clarksville, Tenn., was tragically lost to us on May 21, 2021, at age 60 as a result of a mechanical failure during a private plane flight over Myrtle Beach, S.C. While he did not survive the crash, he was hailed a hero for avoiding homes and power lines by guiding the plane to the only open land for miles around.
Mark started his lifelong "affair" with aviation with a 1979 Seminole High School graduation present from his parents of a private pilot's lesson. This was followed by a bachelor's degree in Aeronautics and Aviation from Embry-Riddle University in 1983.
During his early career, he built up his flight hours by flying commercial freight for AmeriJet based in Ft. Lauderdale. This led to a 30-year career with U.S. Air and American. Mark finished his career as Captain "Mark" flying American A321 commercial jets with over 35,000 accumulated flight hours.
During his off-hours, Mark was known for his entrepreneurial spirit by building Imperial Homes and Imperial Aviation of Mooresville from the ground up.
Mark was known for his unbridled energy, his love of all things that go on land, sea, or air. But most importantly, Mark was known for his love of family and his selfless attitude. He was always willing to lend a hand, teach a skill or offer support anyway he could.
Mark is survived by his children, Bradley and Olivia Harper of Statesville, N.C.; his parents, Kaye and Sidney Harper of Largo, Fla.; and his brother, Todd Harper of Belleair Beach, Fla.
A Memorial service will be held at 4 p.m. on June 4, 2021, at Heritage House of Cavin-Cook Funeral Home located at 494 E Plaza Drive, Mooresville NC 28115.
For those who are unable to attend the graveside, you may go to the following link for the live stream: https://www.youtube.com/channel/UC864hAs96dTRLVVL1la0Qlw/videos?view=2&flow=list
Cavin-Cook Funeral Home, Mooresville, is serving the family of Mr. Harper. Condolences may be made to the family at www.cavin-cook.com.