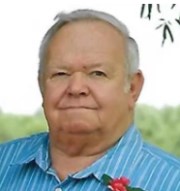 James Ray Hayes, 75, of Statesville, N.C., died Sunday, January 17, 2021, at the Gordon Hospice House. He was born on July 4, 1945, in Iredell County to the late Jay W. Hayes and Connie Church Moore.
James retired from Statesville Concrete after more than 20 years with the company and was a member of Mt. Sinai Evangelical Methodist Church. He loved listening to gospel and bluegrass music, NASCAR, and going out to eat. More than anything, he loved watching his grandkids play sports.
Those left to cherish his memory are his wife of 55 years, Alice Griffin Hayes; a son, James Michael Hayes (Barbara Jo); daughters, Donna Church (Phillip) and Cindy Bertinotti (Scott); grandchildren, Brooke Massenburg (Ryan), Crystal Hayes, David Hayes, Eric Hayes, Kari Painter (Timmy), Kelli Blake (Heath), Kaleb Church (Danielle), and Wesley Wood; great-grandchildren, Abagail Painter, Meredith Painter, James Blake, Charlie Blake, Lydia Massenburg and soon-to-be Mason Massenburg; his step-mother, Betty Karriker; brothers, Leonard Hayes and Gene Hayes; and sisters, Margaret Thompson and Melinda Hayes; and nephews, Timmy Thompson and Chris Thompson.
A Funeral Service will be held Friday, January 22, 2021, at 2 p.m. at Mt. Sinai Evangelical Methodist Church with Rev. David Walters officiating. Mr. Hayes will lie in state on Thursday, January 21, 2021, from 11 a.m. to 5 p.m. at Nicholson Funeral Home.
Memorials may be made to the Gordon Hospice House, 2341 Simonton Road, Statesville, NC 28625. Online condolences may be left at www.nichosonfunerals.com.
Nicholson Funeral Home is serving the family.