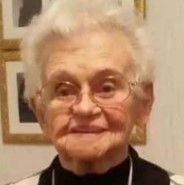 Virginia Hayes Mutchler, 95, was born on July 30, 1925, in New York City and passed away on January 17, 2021, in Statesville, N.C.
She grew up in New York City and moved to Chester, N.Y., after marrying Arthur L. Hayes on February 13, 1944, where they raised their children. After being widowed, she remarried. Virginia worked for many years at Chester National Bank.
She was preceded in death by her parents, Thomas and Mary Ellen Vance; her first husband, Arthur L. Hayes; second husband, Donald Mutchler; sons Arthur L. Hayes and James Hayes; daughter, Darcy Mccombs; Arthur Hayes; and great-grandson Luke Curtin.
She is survived by her daughter, Valerie Garnett of Statesville; her daughters-in-law, Roberta Hayes of Statesville and Harriet Levin of Hadley, Mass.; grandchildren, Dawn Curtin (Brian), Kenneth Gove (Mary), Arthur Gove (Kevin), Christi Tippett, Krecia Goebel (Ray), Adrienne Travis (Jody), Colleen Santoli (Fred), Keiran Mutchler (Linda), Brad Mccombs, Kristen Hayes (Sean Hammond) and Jared Hayes, as well as many great-grandchildren.
A small private family service will be held at the Nicholson Funeral Home Chapel on Wednesday, January 20, 2021, at 5 p.m. The service will be live streamed on the website beginning promptly at 5 p.m. You may watch the service live at https://www.oneroomstreaming.com/view/authorise.php?k=161100999796010
In lieu of flowers, memorials may be made to the American Cancer Society, 1901 Brunswick Avenue #100, Charlotte, NC 28207. Online condolences may be left at www.nicholsonfunerals.com.
Nicholson Funeral Home is serving the family.