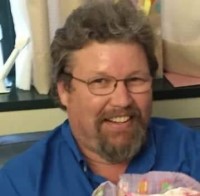 James W. Johnson III, 58, of Mooresville, N.C., passed away Sunday, September 12, 2021, at Iredell Memorial Hospital.
James was born June 29, 1963, in Covington, Ky., and was the son of Elouise Kirby Self (Larry) and the late James Wilbur Johnson Jr. He attended Colquitt High School and on May 31, 1985, he married Tonda Waugh Johnson, who survives.
He was the type of man that if he called you a friend, he meant he was a friend for life. He would give the shirt off his back and was always just a phone call away. He was a jack of all trades and took pride in the fact at he could fix almost anything.
His favorite hobby was fishing with his family and friends — either on the beach or lake/ pond as long as the fish were biting. His favorite place was at the beach, enjoying the sunrise and sunset.
He loved his family beyond words, and his granddaughters were the light of his life.
In addition to his wife and mother, James is survived by one daughter, Candice Bankhead (Nate) of Cleveland; one son, Steven Johnson (Sara) of Cleveland; two granddaughters, Harper Lea Bankhead and Kenzie Jaymes Bankhead; five sisters, Juanita Crump (David), Lisa Lawson (John), Debbie Malcolm, Christina Powell, and Darlene McDowell (Fred); one brother, Keith Johnson (Sandy); mother-in-law, Brenda Waugh; sister-in-law, Kim Berens; and numerous nieces and nephews.
A Celebration of Life Gathering will be held on Sunday from 4 to 7 p.m. at World Hope Worship Center, 2203 Mooresville Road, Salisbury, NC 28147.
In lieu of flowers, memorials may be made to St. Jude's Childrens Research Hospital at www.st.jude.org. Online condolences may be made to the family at www.troutmanfuneralhome.com.
Troutman Funeral Home is serving the family.