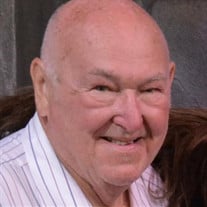 Richard Louis "Dick" Cavey was a loving Husband, Father, Brother, Grandfather and Friend. He left this world suddenly on September 11, 2021.
He was born to Camiel and Dorothy Cavey on March 1, 1937, in Leroy, N.Y. Dick was an accomplished individual who ran a successful business for many years. He loved to joke and laugh. He loved to travel and spend time with his loved ones.
He was predeceased by his mother and father and his sister Margaret.
Richard Cavey is survived by his wife Wendy Cavey (Rich); his brother David Cavey; his step-children, Cheryl Lawson and Darryl Kucmerowski; his grandchildren, Melissa and Jessica; and his great grandchildren, Greyson and Deanna; and nieces and nephews.
Friends and family will be invited to celebrate his life at a date to be determined in Rochester, N.Y.
In lieu of flowers, donations can be made in his name to the Veterans Association, or to a Go Fund Me account set up for Wendy Cavey to assist her in covering funeral costs. The link is https://www.gofundme.com/f/fjev3z-funeral-costs?utm_source=customer&utm_medium=copy_link&utm_campaign=p_cf+share-flow-1
Nicholson Funeral Home is serving the family.