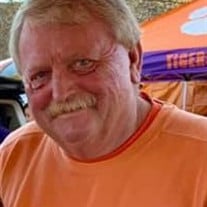 James "Jim" Woodrow Dotson, 62, of Mooresville, N.C., passed away on Thursday, December 2, 2021. He was born in Lima, Ohio, to the late Claudeane Ceclia Wollet and Woodrow "Woody" Wilson Dotson.
During his life, he was a dedicated athlete, sharing his love for sports with family and friends, and a talented mathematician, constantly impressing people with his mental math and tutoring his daughter after long days at work. It was no secret that Jim was an avid college football fan, faithfully cheering on the Michigan Wolverines and the Clemson Tigers every game day.
In addition to his parents, he was preceded in death by his sisters, Barbara McClure, Judy Sanderson, Pat Priest, and Mary Fast.
There is nothing in life that Jim took more pride in than his family. He will forever be remembered as a loving husband and father, often saying "luv ya mean it" to show his love. Jim's gift in life was making people happy, whether it be with a joke, a special treat, or an act of service. Jim cherished time spent laughing with his friends, neighbors, and family, and sharing chicken wings using his special recipe.
Jim leaves a lasting legacy to be cherished by his survivors, including his wife of 28 years, Maria Holinski Dotson; daughter, Diane Dotson of Washington, D.C.; brother, John Dotson of Zephyrhills, Fla., and sisters, Carolyn Powell of Rotunda West, Fla., Donna Miller and husband Jay of Van Wert, Ohio, and Deb Dotson of Jacksonville, Fla.
A Memorial Mass will be held on Saturday, December 11, 2021, at 12 noon at St. Therese Catholic Church, Mooresville. Masks are required and vaccinations are preferred to prevent further heartbreak for loved ones.
The family would like to extend their sincere appreciation to all of the neighbors, family, and friends for the love and care given to them during this time. They hope you will remember Jim by all the laughter and love he provided in his life and beyond.
In lieu of flowers, memorial donations may be made to Habitat for Humanity of the Charlotte Region, National Park Foundation, or Greater Charlotte Area Mutual Aid.
Cavin-Cook Funeral Home, Mooresville is serving the family. Condolences may be made to the family at www.cavin-cook.com.