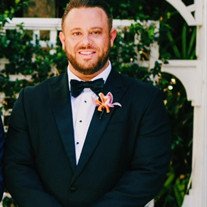 On February 28, 2021, Jamie Scott Buchbinder passed away suddenly at the age of 37. Jamie was born in Brooklyn, N.Y., and raised in Dix Hills, N.Y. Jamie attended Florida Atlantic University and spent his career in automotive management.
He recently moved to Mooresville, N.C., with his family. His four children meant everything to him and were the center of his world. Jamie is survived by Emma (8), Ethan (7), Evan (7) and Eli (5); his siblings Melissa (Chris), Joseph (Lori) and Michael (Carolyna); as well as six nieces and nephews.
Jamie was predeceased by his parents, Valerie and Gary Buchbinder, and his grandparents, Janet and Frank Ianniello and Shirley and Walter Buchbinder.
Jamie did things "his way" and had a larger than life personality. He was kind-hearted and generous to the people he loved. Everyone has a 'Jamie Buchbinder' story and he left a lasting impression on all who knew him. Jamie's tragic death will have a tremendous impact on his family and friends. He will be greatly missed, but never forgotten.
No services are planned at this time.Cavin-Cook Funeral Home, Mooresville, is serving the Buchbinder family. Condolences may be made to the family at www.cavin-cook.com.