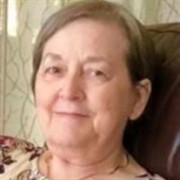 Janice Sue Duty Harrison, 73, of Statesville, N.C., passed away on Wednesday, January 20, 2021, at Davis Regional Medical Center. She was born on February 11, 1947, in Grundy, Va., to the late Ira Elliot Duty and Stella Melvina Belcher Duty.
Janice was a beloved wife, mother, grandmother, aunt, caregiver, and friend. Janice married Michael Harrison in 1969 and after living in several towns in Virginia and North Carolina the couple settled in Statesville to raise their two children. She was known to many as Momma Jan and also was the co-owner of Daylight Donuts. Janice operated an in-home daycare for more than 28 years. She loved and cared for roughly 135 children during her career. Janice cared for them from as early as six weeks old until they started school; she nurtured and taught them the fundamentals like how to share, how to color inside the lines, and how to say and recognize their ABCs/123s. She loved working with young children and developed a close relationship with her "kids" and their parents. She loved them like her own and enjoyed watching them grow up over the years.
In 2002, Janice and Michael along with their son, Jody, opened up Daylight Donuts. They worked together side-by-side, waking up early each day to make fresh donuts, serve hot coffee and provide a warm smile to greet their customers. Janice enjoyed decorating the shop with all kinds of vintage collectibles, working the front counter, and talking with people. She always there with an open ear to listen and talk. Many of their frequent patrons have become family over the years.
Janice also loved traveling to their beach house on the Outer Banks and spending time there with Michael and her extended family. She loved watching her grandchildren and great-nieces/nephews play on the beach or at the pool. She was known to spoil them with homemade treats and surprises. No one was ever hungry or thirsty if Janice was around. She was always the hostess caring for others first no matter her location.
In addition to her parents, she was preceded in death by one sister, Mildred Trout; and one brother, Charles Robinson Duty Sr.
She is survived by her loving husband of fifty-one years, Michael Harrison; one son, Jody (Chantres) Harrison of Statesville, N.C.; and one daughter, Michelle (Bobby) Cummings of Lantana, Texas; one sister, Millie Clevinger of Kill Devil Hills, N.C.; and three brothers, Clarence E. Duty of Owings, Md., James E. Duty of Poquoson, Va, and Ira E. (Joann) Duty Jr. of Grundy, Va.
She is also survived by her grandchildren, Harrison Edward Cummings, Landon Robert Cummings, and Arwen Elyse Harrison, along with many beloved brothers-in-law, sisters-in-law, nieces, nephews, great-nieces, great-nephews. She also had many dear friends at Daylight Donuts.
A visitation will be held at 1 p.m. on Friday, February 12, 2021, at Nicholson Funeral Home. Bishop James Jackson Sr. will preside over the service at 2 p.m. in the chapel. The service will be live streamed from the website beginning promptly at 2 pm. Burial will follow in Oakwood Cemetery.
The family of Janice Harrison has entrusted the care of their loved one to Nicholson Funeral Home of Statesville, N.C.