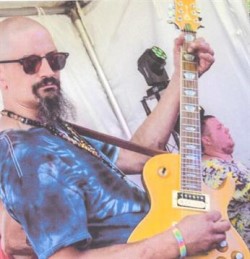 Jeffrey Raymond Moore III, 53, of Statesville, N.C., passed away on Saturday, November 27, 2021, at his residence.
He was born on September 3, 1968, in Westerly, R.I., to Raymond and Nancy Laing Moore. Jeffrey was an artist and musician; he enjoyed playing the guitar, drums, viola, and piano. He used to play at open mic nights at Isy Bells in Mooresville. Jeffrey was very outgoing and loved spending time with his family.
In addition to his parents, Raymond and Nancy, he is survived by his children, Brian Moore, Nicole Moore, and Jeffrey Moore (Samantha Barnard); sisters, Lynda Burchette and Deborah Oliver (Darrel); brother, Stephen Moore (Melissa); one grandchild on the way; and numerous nieces and nephews.
The family will receive friends Thursday, December 2, from 6 to 8 p.m. at Cavin-Cook Funeral Home. Funeral services will be held at 2 p.m. on Friday, December 3, at Cavin-Cook Funeral Home Chapel.
In lieu of flowers, memorials may be made to Mooresville Christian Mission, 266 North Broad Street, Mooresville, NC 28115.
Cavin-Cook Funeral Home & Crematory, Mooresville, is serving Jeffrey's family. Condolences may be made to the family at www.cavin-cook.com.