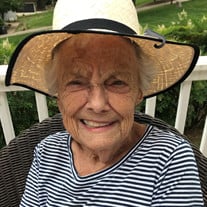 Mary Frances Dwyer Nantz passed away peacefully on November 26, 2021. She was born in Derita, N.C., on May 26, 1928, to the late Charles O. and Annie Stinson Dwyer. Mary made Mooresville her home when she married Dick, in June 1947.
As members of the Greatest Generation, she and Dick built a life based on hard work, perseverance, and responsibility to and love for family. She held many roles in her long life. Her first job was driving a school bus in high school. Although she "took out" a mailbox or two, she managed to continue the job until she graduated from Derita High School.
As a young bride, she was one of the earliest commuters and "ride share" folks from Mooresville to downtown Charlotte, where she held a position at Duke Power (Duke Energy). For a period of time, she worked in the "towel room" with her mother-in-law, Rena, at Burlington Mills.
When her two children became school students, she assisted her husband and her father-in-law Morrison, in the family business, Nantz Motor Company. Mary was a loving and dedicated wife, daughter, mother, grandmother, sister and friend. She excelled in cooking, as many have enjoyed firsthand. Feeding people and animals delighted her, even if it was just a piece of candy from her UNC Tarheels container.
We rejoice for her life and being a part of it.
She is survived by her daughter, Debbie (Bruce) Lanier; grandchildren, Wes and Lynnsey; sister, Kay Cooke; sisters-in-love, Lib Lowe (Bobby), Arzelle Dwyer, and Joyce Simpson; and special friends, Doug and Patti Nantz. Many nephews and nieces who enriched her life also survive her.
She was preceded in death by her husband, Dick; her beloved son, Alec; brothers, Earl, Charles O. Jr., Paul Frank and Ray.
Funeral services will be held at 2 p.m. on Thursday, December 2, 2021, at Heritage House of Cavin-Cook Funeral Home with Tommy Bowles officiating. Burial will follow the service at Glenwood Memorial Park, Mooresville. The family will receive friends prior to the service from 1 to 2 p.m. at the funeral home.
In lieu of flowers, memorials may be made to Broad Street United Methodist Church 355 S. Broad Street, Mooresville, NC 28115.
Cavin-Cook Funeral Home, Mooresville, is serving the Nantz family. Condolences may be made to the family at www.cavin-cook.com.