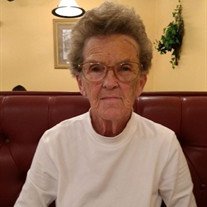 Jetty Brown Mayhew Stafford, 90, of Mooresville, N.C., passed away on Tuesday, March 23, 2021, at her home with her family by her side. She was born on January 7, 1931, in Iredell County, N.C., to the late Robert Clyde and Neely Reid Mayhew.
Mrs. Stafford was retired from Troutman Shirt Company. She was a member of McKendree Chapel United Methodist Church in Mooresville. She was a strong Christian woman who was always very active in her church. Mrs. Stafford was a selfless and very generous woman.
In addition to her parents, she was preceded in death by her husband, Robert Stafford; brothers, Robert, Harry, Frankie, Yonnie, and Charles Mayhew; and sisters, Martha Ann Mayhew, Mary Lucille Johnston, Elizabeth Hager, and Emma Piguerra.
She is survived by her daughters, Bonnie Harris (David Pennell) of Grand Island, Fla., and Pamela White (Darrell) of Mooresville; granddaughters, Kristin Honeycutt Reeves, Randi White Sullivan, and Meredith Leigh Shoe; and great grandchildren, Chase Reeves, Emmalyne Sullivan, Nathan Reeves, and Bowden Sullivan.
The family will receive friends on Friday, March 26, from 7 to 9 p.m. at Cavin-Cook Funeral Home. Funeral service will be held at 2 p.m. on Saturday at McKendree Chapel United Methodist Church with Rev. Mike Duncan and Rev. Lawrence Ownbey officiating. A graveside service will be held at 11 a.m. on Monday, March 29, at Iredell Memorial Park in Statesville. COVID guidelines will be followed; everyone please practice social distancing and wear mask.
In lieu of flowers, memorials may be made to McKendree Chapel United Methodist Church, Stained Glass Window Fund, c/o Jeffrey Burris, 3959 Chevlot Hills Road, Sherrills Ford, NC 28673.
Cavin-Cook Funeral Home & Crematory, Mooresville, is serving the Stafford family. Condolences may be made to the family at www.cavin-cook.com.